Travel information

Scenic Spot Recommendation
East Line : Terracotta Warriors Museum, Hua Qing Hot Spring.

North Line : Hua Shan Mt. .

City Tour : Bell Tower, City Wall, Big Wild Goose Pagoda, Shaanxi History Museum.



Terracotta Warriors Museum
Terracotta warriors museum is located in Lintong, about 35 kilometers away from Xi'an. It is regarded as the 8th wonder of the world, and was listed by UNESCO in 1987 as one of the world cultural heritages. It was constructed on the order of Emperor Qin Shi Huang – the First Emperor of the Qin Dynasty (221-207 BC). It was discovered in 1974 by local farmers accidentally. The museum was opened in 1979 and now is composed of 3 pits and bronze horses and chariots exhibition.The 3 pits totally housing over 7000 spieces of life-like terra-cotta warriors and horses standing underground for over 2000 thousand years. Pit 1 is the largest one, housing about 6000 life-like terra-cotta warriors and horses. Pit 2 contains 1000 warriors and 90 chariots of wood. Experts pointed out that Pit 3 is the command center or headquarters for all the groups in the other two pits. The accessory pits include the builder's graveyards, the slaughter pits, the rare birds and animals pits and the stable pits.
Opening
Hours
March 16 to November 15:
sell ticket from 08:30 to 17:00,
stop check-in at 18:00
November 16 to March 15:
sell ticket from 08:30 to 16:30,
stop check-in at 17:30

Admission
Fee
March 1 to November 30: CNY150
December 1 to end of next February: CNY120

Recommended
Time for a Visit
It usually takes around three hours in the museum.





The Xi'an City Wall is the best preserved, oldest and largest ancient city defense system in China.The existing wall was built in Ming Dynasty in 1370AD, and experienced many repairs during Ming and Qing Dynasty. It measures 12-14 meters across the top, 15-18 meters thick at bottom, and 13.7 kilometers in length. It has four gates, among which the South Gate was selected as one of the venues of 2016 Chinese Spring Festival Gala. The wall is one of the most important landmarks of the Xi'an. You can ride a bicycle, or get on a golf cart along the circle.

Admission Fee
CNY 54 for adults.
CNY 27 for children between 3.9 and 4.6 feet (1.2 - 1.4 meters) in height; free for children under 3.9 feet.
CNY 100 for a combo ticket for the wall and Forest of Stone Steles Museum.
From 18:00 to 21:00 during 2016 Lantern Fair (Feb. 8 to Mar. 13)
For adults: CNY 60 (Feb. 14 to 19, Feb. 24 to Mar. 13)
CNY 100 (Feb. 8 to 13 and Feb. 20 to 23)
Children between 3.9 and 4.6 feet enjoy 50 percent discount and those who are under 3.9 feet can enjoy the lantern fair for free.

Opening Hours
South Gate: 8:00-22:00
East/North/West Gate, Wenchang Gate, Heping Gate, Shangde Gate:
April 1 to 30: 08:00 - 18:00;
May 1 to October 31: 08:00 - 19:00;
November 1 to next March 31: 08:00 - 18:00
Hanguang Gate: 8:00-17:30

Performance at the South Gate
City Wall Gate Openning Ceremony (South Gate Square): 9:00
Living Statue Performance: 10:45, 19:45
Warrior Parade Performance(Barbican):11:00,11:40,16:20, 16:50, 18:00
Relieving Guard Ceremony: 09:30, 15:30, 18:40
War Drum and Military Formation: 10:30, 19:30
Military Formation Performance: 17:30

Recommended Time for a Visit
3.5 hours for a whole circle





Big Wild Goose Pagoda



Big Wild Goose Pagoda (Da yan ta) is a well-preserved ancient building and a holy place for Buddhists, located in the Temple of Great Maternal Grace (Da ci en si). It was built in 652AD during the Tang dynasty. First built to a height of 60 meters (197 feet) with five stories, and it is now 64.5 meters (211.6 feet) high with an additional two stories. It functioned to collect Buddhist materials that were taken from India by Master Xuanzang, a famous monk, Buddhist translator and traveler who later translated the Buddhist Scripture from Sanskrit into Chinese. Before the temple, there stands a statue of Xuanzang on the South Square. And you can watch the largest musical fountain in Asia on the North Square.

Opening Hours
8:00 - 17:00
Admission Fee
Entrance Fee of Daci'en Temple: CNY 50
Ascending the Pagoda: CNY 30
Hours of the Musical Fountain on the North Square
1.Monday, Wednesday-Friday:12:00,21:00 (Jun.10-Oct.5);
12:00, 20:30 (Feb.1-Jun.9; Oct.6 - Oct.31)
2. Tuesday: 21:00 (Jun.10 - Oct.5); 20:30 (Feb.1 - Jun. 9; Oct.6 - Oct.31)
3. Weekend and other statutory holidays:
12:00, 14:00, 16:00, 18:00, 21:00 (Jun. 10 - Oct. 5)
12:00, 14:00, 16:00, 18:00, 20:30 (Feb.1 - Jun. 9; Oct. 6 - Oct. 31)
*Note: There is no show from November to the next January except the Spring Festival Holiday. CNY 30 with seat.




Situated at the northern foot of Mt. Lishan in Lintong County, 30 kilometers (18.6 miles) from Xian City, Huaqing Hot Springs are famed for both its dainty spring scenery and the romantic love story of Emperor Xuanzong (685-762) and his concubine Yang Guifei in the Tang Dynasty (618-907). They have been used for 2500 years. The mineral-rich waters bubbling up from the earth have soothed emperors dating back to the notorious Qin Shihuang, and during the Tang Dynasty it became a primary imperial summer residence. Today, many imperial-era buildings and pools remain, accompanied by a small museum and marble boat. The five remaining pools are the Lotus Pool, Haitang Pool, Shangshi Pool, Star Pool and Prince Pool. We can enjoy a grand Tang Dynasty Performance - The Song Of Unending Sorrow played every night at Huaqing Hot Springs.


Admission Fee
March 1 to November 30: CNY 110
December 1 to the end of next February: CNY 80
Free for children below 3.9 feet (1.2 meters).

Opening Hours
March 1 to November 30: 07:00 – 18:00
December 1 to the end of next February: 07:30 – 18:30

Recommended Time for a Visit
One and a half hours


Performance-Watching Time
Two performances on Friday, Saturday and statutory holidays: 20:10 – 21:20; 21:30 – 22:40
One performance from Sunday to Thursday: 20:30 - 21:40
Note:
1.The performance of "The Song of Unending Sorrow" is available during Apr.1 to Oct.31.
2.The performance might be canceled due to extreme weather. Please refer to the latest notice inside the scenic area.

Performance-Watching Fee
1. The eastern and western areas: CNY 218;
The central area: CNY 258;
The VIP area: CNY 988/888/588.
2. The fee for central area during weekends and holidays is CNY288.



Mount Hua, or Hua Shan is located near the city of Huayin in Shaanxi province, about 120 kilometers east of Xi'an. It is a part of the Qin Mountains, which divide not only northern and southern Shaanxi, but also China. It is one of China's Five Great Mountains, and has a long history of religious significance. The mountain is classified as five main peaks, which are the representative attractions and each has its distinctive charms: East Peak is the best place to enjoy the sunrise; South Peak has the highest altitude; West Peak is the most elegant; North Peak is famous as the Cloud Terrace Peak and Middle Peak is also called Jade Lady Peak. Huashan has a variety of temples and other religious structures on its slopes and peaks. At the foot of the mountains is the Cloister of the Jade Spring(Yu Quan Yuan). Atop the southern-most peak there is an ancient taoist temple which in modern times has been converted into a tea house.The inherent danger of many of the exposed, narrow pathways with precipitous drops gave the mountain a deserved reputation for danger.

Entrance Fee
March 1 to November 30: CNY 180;
December 1 to end of next February: CNY 100;
Note: The ticket is valid for two days.
(including main peaks scenic area, Jade Spring Temple, Xianyu Scenic Area and Xiyue Temple)

Cable Car Service
March 1 to November 30: 07:00-19:00
December 1 to end of next February: 09:00 - 17:00
Donggoukou - White Sparrow Temple - West Peak
March 1 to November 30: CNY 280 (round trip); CNY 140 (one way)
December 1 to end of next February: CNY 240 (round trip); CNY 120 (one way)
Wamiaogou - North Peak
March 1 to November 30: CNY 150 (round trip); CNY 80 (one way)
December 1 to end of next February: CNY 80 (round trip); CNY 45 (one way)

Best Time to Visit
April to October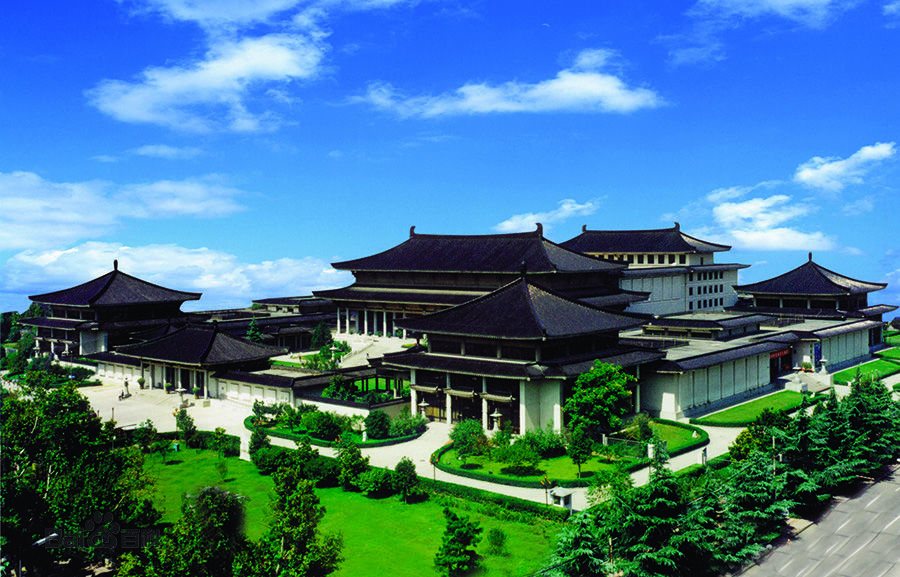 The Shaanxi History Museum has a large collection of artifacts both modern and ancient, which is one of the first huge state museums with modern facilities in china and one of the largest. The
museum houses over 370,000 items, including murals, paintings, pottery, coins, as well as bronze, gold, and silver objects. The modern museum was built between 1983 and 2001 and its apperarance recalls the arhitectural style of the Tang Dynasty.